Your Guide to Effectively Fighting Sex Crimes Charges in Oklahoma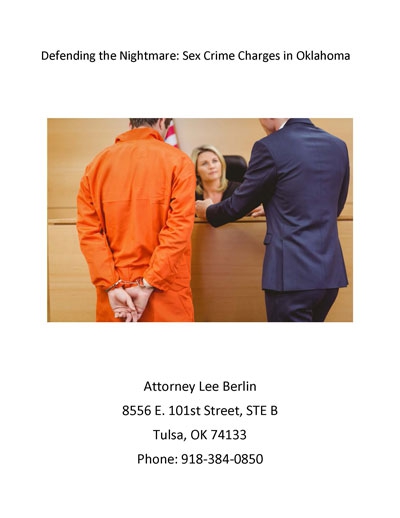 If you've been charged with a sex crime or a crime against a child, or even if you are worried you're being investigated, you likely have many questions and concerns. You may wonder what the future will hold. Will you have to go to jail? Or be registered as a sex offender? Will you lose your job? Will your life ever be the same?
It's natural to feel overwhelmed and wish this was simply all a bad dream. You may be embarrassed or fearful, but don't let those emotions prevent you from getting the help you need.
Oklahoma's only dedicated sex crimes attorney Lee F. Berlin authored the book Defending the Nightmare: Sex Crime Charges in Oklahoma to help individuals face these serious charges. In this book, now available for free download, Lee discusses the legal process and possible defenses, and he offers practical tips that you can use today. Each chapter provides information on pertinent, important topics, including:
Your rights as a defendant
Possible consequences
What to say to law enforcement (hint: say nothing!)
Handling media attention
Gathering necessary evidence
Preserving your employment
Marriage and custody issues
Avoiding the sex offender registry
As a former prosecutor, attorney Lee F. Berlin offers every client a wealth of knowledge and insider experience for a wide range of sex crimes and crimes against children. His comprehensive and aggressive approach seeks to provide every client with the best possible legal outcome. For nearly 17 years, he has dedicated his legal practice solely to defending the rights of those accused of these serious crimes.
Read Defending the Nightmare: Sex Crime Charges in Oklahoma to better understand your situation and learn about how to best fight your charges. You'll find practical tips to use today, as well as information about retaining the best possible representation.
Request a free copy of Lee F. Berlin's book and take back your future. If you have any further questions or need immediate advice, call our Tulsa office at (918) 384-0850.